Blah, blah, blah! Not ANOTHER "how to make mod podge pumpkins" post, lol! Yes, yes y'all I'm going there. I know you guys already know the skinny on MP, so I won't go into too much detail on the how to's. What I want really want to share with you is how to make a stem for those pumpkins that looks real! Now, don't get me wrong. The plastic stems are just fine, but my thinking is why settle for fine when you can have FABULOUS!?
Here's a quick idea of what you'll need to mod podge your pumpkins. We'll get to the stem in a few!  I've got a bazillion kinds on modge podge, so feel free to choose whichever you like.

I buy my Mod Podge at Michael's (remember to take your 40% off coupon!) I've also very recently become obsessed with the $1 bins. They're the bomb dot com! Seriously. I scored this awesome cheetah wrapping paper there for just a buck! The roll itself is about the width of a roll of contact paper, but there's a TON of paper on it. I cut about 10 strips of paper for this pumpkin. You'll need more if yours is larger. Don't worry about cutting perfectly straight lines. Mine were varying widths and kinda sloppily cut and they were just fine. Remember, this should be fun! I crumbled them up to give them a bit of texture and the flattened them out again.

At this point, you're ready to begin. I yanked my stem out prior to applying the mod podge. Even if you don't plan on doing the "stem" part of the tutorial, I would wiggle that baby out and glue it back in when your mod podge has dried. They look better, having the hole there makes it easier to maneuver the pumpkin when your applying your paper and it saves you the trouble of having to fuss with working around the stem. I took my chip brush and as you can see, I applied the mod podge rather liberally to an entire half of the pumpkin. You can apply yours however you'd like. This is just what worked for me. Apply your first piece of paper, and then add some mod podge over the top of that.

Add the next piece and repeat until the pumpkin is totally covered. As shown in the last photo, I am in fact, using my finger tips to flatten out the paper. I've tried getting the paper flattened out with a brush and there's just no comparison. It's imperative that you have mod podge on your fingers while you're doing this so that they glide easily over the surface. For me, the key is a smooth surface with no bubbles. Don't worry about your hands getting gross and sticky. It'll peel off like school glue when you wash up. Once you're happy with how it looks, set your pumpkin aside to let it dry. I suggest putting it on a piece of wax paper.

Now the fun part!!! Please be forewarned, this is a whole lotta ugly before it starts lookin' good.
You'll begin by pulling apart some cotton. We're after thin wispy strands, not chunks and you wont need very many. Apply the mod podge to the entire stem and then cover it completely, placing the cotton vertically. You should have enough on there that you'll hardly be able to see the plastic underneath.

I started applying the mod podge prior to moving the stem back onto the pumpkin. You'll want to go ahead secure the stem back onto the pumpkin with hot glue or mod podge prior to doing that. With your chip brush, apply a liberal amount of mod podge over the cotton. Try to make sure you don't stretch it out too much. Pay close attention the base of the pumpkin too. I stretched a few pieces of cotton down so the base had a bit of a starburst look. Leave some little strings around the top too. It makes the stem look more authentic. When you're happy with it, set it aside to dry. If you're impatient like some of us, you can take a hair dryer to it. The point is not to completely dry it, but rather to get the surface dry to the touch. PS, at this point, it's still not lookin' too good!

Once you're stem has dried to the touch, you can begin to sculpt it. I literally took my thumb nail and made vertical lines to simulate the grooves on a stem. You can use anything with a flat, sharp edge. Now is when you'll start to see it coming together!

I would leave the pumpkin to dry over night. When you wake up, it'll be ready for paint! This is where you get to do your thang! I painted the stem a creamy color first, then dry brushed a lighter brown over top. When that was dry, I applied a verde green glaze to the stem and base and wiped away. You'll want to make sure to keep a wet paper towel handy to wipe away any excess paint that gets on the pumpkin. In the large pic below, I'd wiped away the glaze and dry brushed a bit more cream to it. It was just looking a little too green. After that had dried, I also added a coat of VDB glaze to further tone down the green. Sorry there are no pics. I had a sick kiddo on my hands.
Regarding products, I used what I had on hand. You could go to your local Michael's and pick up 4 bottles of acrylic craft paint and achieve a similar, if the same exact look. Where I've referenced having used glaze, in this case I glazed with VanDyke brown and verde, and water down paint a bit. You'd want to use colors close to forest green and dark brown and apply it like you would a glaze and wipe/blot away. Just make sure your previous layer has dried so it doesn't rewet.

Here's the finished product! I'd love to hear your thoughts, so make sure to leave me a message. Feel free to pin and share away! As always, if you have any questions, please let me know. Thanks for visiting!

Sharing at…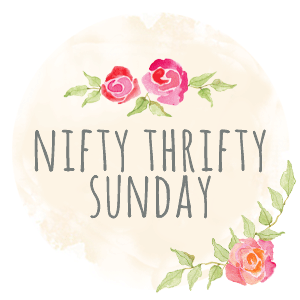 http://diyshowoff.com/category/other/that-diy-party/
http://www.homestoriesatoz.com/tutorials/tutorials-tips-link-party-175.html
http://www.houseontheway.com/twirl-take-bow-party-110/
http://www.tipjunkie.com/post/fall-craft-ideas-add-yours/
http://www.savvysouthernstyle.net/2014/09/wow-us-wednesdays-187.html
http://snapcreativity.com/show-132/
http://www.frommyfrontporchtoyours.com/2014/09/treasure-hunt-thursday-173-highlights.html